Family Owned & Operated Since 1936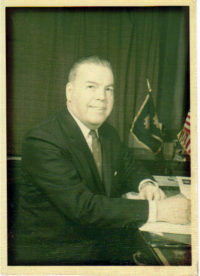 1936
AdFlag Founded
Advertising Flag Company was founded in 1936 by Frank F Smith. Frank made his way to Chicago from Pittsburgh, PA to work the Century of Progress (Chicago World's Fair) that was from May of 1933 through October of 1934 selling novelty products.
1939
1st Retail Store
Advertising Flag Company's first retail store location was at 543 S Dearborn St. The company was at this location throughout the duration of WWII. While Frank was serving our country in France, the company continued to make the Minute Man flags as well as Service Star Banners.
1946
Moved
In August of 1946 the company moved to 415 S Clark St and continued its retail operations for two years before it moved around the corner to 75 W Van Buren. Displaced by the start of construction of the new Metropolitan Correctional Center in 1971, the company moved to 523 S Plymouth Court.
1976
A New Generation
Frank Smith passed away in April 1976. Upon his passing, his son Randolph Smith and son-in-law Bob Olson took over the business. The company grew as both started to concentrate on the manufacturing side of flags.
1981
Purchased Facility
After leasing space for all of the previous years, the company finally found itself in the position of buying its own building at 1349 S Wabash. One of the non-flag highlights was when the building was featured in a short shot in the TV series called "Crime Story".
1980's
New Building
By the mid 1980's the South Loop had turned toward residential development and the company would move again to a building within the old Central Manufacturing District at 3801 S. Ashland Ave. The company resided in that building from 1987 until December 2016.
2016
Changing Hands
The company experienced tremendous growth and place itself among the leader of domestically made custom made flags and banners. Randolph Smith retired in 2016 leaving Bob along with his son's Mike and Doug as the principals to carry the business forward at our current location in Posen.
What We Can Do For You...
Quality manufacture of flags, banners, pennants, streamers, tablecovers, sashes and related products.
Production by applique, screen printing, digital printing and combined process.
Wide fabric selection including nylon, cotton, poly-cotton blends, wool felt, spun polyester, polyester twill, rayon, acetate and polyester satins, vinyl laminates.
Provide finishing to accommodate any installation or application, including all traditional sewing techniques, venting, inserts, attachments (Velcro, etc.).
Stocking and 'call-out' programs, personalizations, individual packaging, drop-shipping, international shipments.
Design services, graphic enhancement, print color-matching, proofing, accurate repeatability.
The stock products we offer, from United States, State and International flags to licensed products, poles and accessories are always the finest available. We are committed to uphold our reputation for quality, service and integrity.
Special services
Large inventory, prompt shipping
Complete manufacturing and graphics capability
Competitive pricing
VISA, MasterCard, DISCOVER, American Express, PayPal Express, & Amazon Checkout accepted